Clean solution: Liquefied natural gas (LNG) and biogas (LBG) as fuels for heavy goods vehicles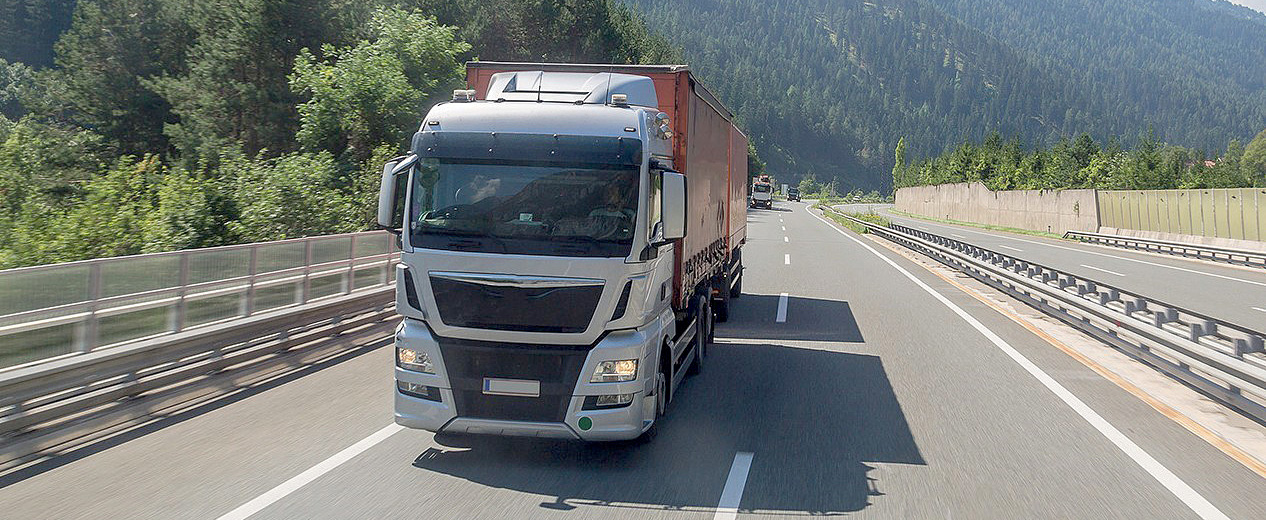 © shutterstock / S-F
Liquid natural gas, known as LNG (Liquefied Natural Gas), is natural gas that is liquefied by cooling to minus 160 degrees Celsius, reducing its volume to one six-hundredth. In order to do this, liquefaction plants are required on the producer side while on the receiver side regasification terminals are needed. Huge quantities of natural gas can thus be brought to consumer countries by tankers, where it is converted back into a gaseous state and distributed via the gas pipeline network. Across Europe, there are currently 36 such terminals that bring liquefied natural gas ashore. Together, the European terminals have a regasification capacity of 241 billion cubic metres per year. This represents more than half of the annual consumption of natural gas in the European Union.
Closer to the consumer
In recent years, however, there has also been a trend towards small-scale gas liquefaction plants – so-called 'Small-Scale LNG Terminals' – to bring liquid natural gas closer to consumers who have not had access to it due to long distances. According to Gas Infrastructure Europe (GIE), the association of European gas infrastructure operators, data show that LNG infrastructures that offer small-scale services are showing strong development throughout Europe, whether as fuel in maritime and heavy goods transport or as a grid-independent energy solution.
The trend has been confirmed in particular for road transport: around 330 LNG filling stations are now in operation in Europe. The gas transmission system operator Trans Austria Gasleitung GmbH (TAG GmbH) plans to build a liquefaction plant for natural gas and biogas in Austria. We asked the project manager Roberto Tebaldi, Head of the Commercial Department of TAG GmbH, to find out more about the background and goals of this innovative project.
Gas im Fokus: Mr. Tebaldi, what is the Small-Scale LNG/LBG project all about?
LNG (Liquefied Natural Gas) and LBG (Liquefied Bio Gas) as fuels for heavy goods vehicles larger than 12 tonnes and semi-trailers represent a decarbonisation alternative to diesel. The contribution to the reduction of nitrogen dioxide and sulphur dioxide emissions as well as particulate matter is also significant. A quick look at a map of European petrol stations perfectly illustrates this trend: almost 330 public LNGfilling stations are currently in operation in the EU; at the beginning of 2015 there were only a few.
Since the existing European LNG regasification terminals are about 800 km from Austria, our idea is to produce LNG and LBG through a liquefaction plant built in Austria, in order to supply local petrol stations and logistics companies.
The Small-Scale LNG/LBG project is therefore concerned with the provision of bio- or natural gas as fuel for LNG/LBG-powered lorries. The biogas is fed by biogas plants into the transport system physically or virtually. As long as the biogas certification system has not yet been realised, natural gas can be used as a transitional solution. The gas is then fed into the planned liquefaction plant via the TAG GmbH transport system and is converted into LBG/LNG. The next step is the supply of filling stations and logistics companies.
GIM: Where exactly in Austria should the plant be built and what considerations formed the basis for this location decision?
The exact location depends primarily on the target market. The optimal location would be precisely where the concentration of petrol stations and logistical centres is highest and at the same time where the main European transport corridors intersect. Criteria such as proximity to TAG GmbH's existing gas transport system, connection to main traffic routes, connection to the electricity grid as well as a potential sales market for LNG are taken into account when evaluating the possible location. The final location decision will only be made in the next phase of the project.
GIM: Can you explain to us in simple terms how the system works?
Connected to the existing pipeline network, the biogas to be liquefied or natural gas is first cleaned. All undesirable components during the liquefaction process, such as CO2, are separated and residual moisture is removed from the gas. In the next step, the purified gas is cooled to approx. -160°C in the so-called cold box and is thus liquefied. This is done via a specially developed heat exchanger. Liquid nitrogen can be used as a coolant, for example. The deeply cooled, liquefied gas is then fed into vacuum-insulated storage tanks, from which it is pumped into lorries via special loading facilities. Using these lorries, the LBG/LNG can be delivered to the various different targets as well as to in-house filling stations at hauliers.
GIM: What are you focusing on in this project? Who are the potential buyers?
The focus is currently on market development in cooperation with lorry manufacturers, petrol station owners and logistics companies. Potential customers are both public fillings stations, on motorways or country roads, as well as privately operated petrol stations at logistics companies. The lorry producers together with the service station operators form the link between the provision of LNG/LBG and the end user. TAG GmbH is convinced that this initiative can only be successful through a common path and in full synergy with all market participants in the energy and mobility sector.
A further focus is currently on the public and institutional perception of the indispensable future role of LNG/LBG fuel as an alternative for heavy goods vehicles. Germany has already extended the toll exemption for LNG-operated trucks and Italy has been financially supporting the purchase of LNG lorries for several years. LNG/LBG is also going to be promoted in Austria.
GIM: What potential do you see for 'Small-Scale LNG/LBG' in terms of climate protection?
LNG/LBG offers the possibility of environmentally friendly mobility. The mobility sector is one of the most promising sectors for decarbonisation. From the current point of view, LNG leads to a substantial CO2 emission reduction up to 15 - 25%, with the use of LBG even producing from 90 to 95% less emissions. For sulphur dioxide, the reduction is up to 100%, for nitrogen oxide it is 80%.
Currently, no other alternatives to diesel can produce such a positive decarbonisation balance. The LNG/LBG technology is mature and usable and the only viable way for the market segment of lorries larger than 12 tonnes to achieve the goals of the Austrian government for carbon neutrality.
GIM: When will construction begin and when will it be completed?
Currently, the project is still in the development phase. After investment decisions have been made, it will move into the construction phase. The completion date has not yet been set. TAG GmbH aims to put the plant into operation as soon as possible.
LNG/LBG in the mobility sector...
LNG/LBG in the mobility sector contributes to a potential reduction of 15-25% of greenhouse gases.
LBG leads to a potential reduction in greenhouse gases from 90 to 95%.
In addition, it leads to a significant SOxand NOxreduction and thus improvement of air quality while reducing noise emissions.
Sophisticated technology on the part of LNG/LBG construction as well as in vehicles.
Availability of gas (energy source for transition; biomass for biogas).
Affordable solution both in purchase and in operation.
Average range per refuelling from 1,000 to 1,400 km.
5 to 10% cost advantage over diesel, all the more so with increasing prevalence and increasing costs for CO2
FR, DE, NL and IT now have the highest LNG/LBG market share in the mobility sector in Europe.
Lorry traffic in Austria
Projected increase in transport volumes in Europe:
+15 - 25% in the period 2030 to 2040
+30 - 40% in the period 2040 to 2050
Transit accounts for about 50% of lorry traffic in Austria
50% refuelling of trucks at public filling stations
50% refuelling of trucks at company-internal filling stations
40% of CO2 emissions in Austria (not ETS)
30% of which is from category N2 and N3 lorries (> 3.5 t)
Contact

Public Relations

Peak Vienna
Floridsdorfer Hauptstraße 1
1210 Vienna

+ 43 1 27500-88052
---